#51: Dynamics on Metal Snare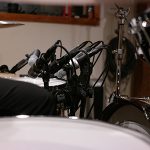 In this audition, we set up old and new dynamic mic favorites and pointed them at a Ludwig Black Beauty snare for a pop Alt Rock song. Special thanks to local session player, Jake Mohan, for sitting in.
Be sure to use the "Listen Blind" feature under "Options" to avoid any preconceived notions on which mic you'll like.
Load Audition
ITEMS: Alt Rock, ATM650, Audio Technica, Audix, Beta 56A, CAD, D4, dynamic, i5, Lewitt, Metal, Miktek, MTP 440, PM10, shoot out, Shure, SM57, snare, TSM411
[fblike]