#59: Dynamics on Wood Snare
[raw]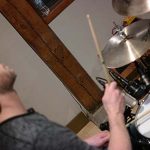 [/raw]We set up old favorites and a few newly introduced dynamic mics, pointed them at a Gretsch Broadkaster maple snare. The mics in this session are from low to mid-range affordable and all have defined and different voices. Local session player, Jake Mohan, stopped in to overdub a new drum take for an Alt Country song by The Ramps.
Be sure to use our "A/B" compare feature to clearly hear the difference between any two mics.
[raw]Load Audition[/raw]
NOTE: We are using the Lewitt LCT340s and the "Recorder Man" configuration for the overheads and an AKG D12VR for the kick.
ITEMS: [show_post_categories show="tag" hyperlink="yes"]
[fblike]