#60: Dynamics on Acrylic Snare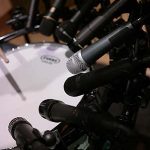 Live drums in an electronic composition? Yes! We set up old favorites and newly introduced dynamic mics, pointed them at a Spaun Coke Bottle acrylic snare and asked local session player, Jake Mohan, to recut a section of an original song.
Be sure to use the "Listen Blind" feature under "Options" to avoid any preconceived notions on which mic you'll like.
Load Audition
NOTE: We are using the Lewitt LCT340s in a "Recorder Man" configuration for the overheads and an AKG D12VR for the kick.
ITEMS: acrylic, ATM650, Audio Technica, Audix, Beta 57A, Beyerdynamic, dynamic, Electro-Voice, electronic, i5, Lewitt, M201 TG, M88 TG, MTP 440, ND478, Shure, SM57, snare
[fblike]