#67: Dynamics on Clean Lead Guitar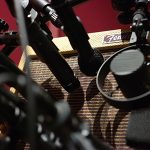 A Gibson ES137 for the classic semi-hollow body clean tone and 8 dynamic mics in a price range from $99 to $400 to capture it. There are some old favorites and new mics trying to take the lead in this session. Bryan Knisley, of North Orbit Audio, solos over an Alt Country song using the Keeley Monterey and MXR Carbon Copy. We also have the Blues Jr going through a Tone King Ironman to try the tubes.
Load Audition
NOTE: The MD421 II's bass roll-off switch was set to "S" or maximum roll-off.
ITEMS: Alt Country, ATM650, Audio Technica, Beyerdynamic, dynamic, e609, electric guitar, Electro-Voice, Halo, Humbucker, Lewitt, M88 TG, MD 421 II, MTP 440, ND46, Sennheiser, shoot out, Shure, SM57, Sontronics
[fblike]