#70: Dynamics on Distorted Lead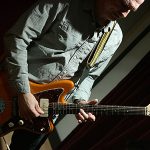 North Orbit`s owner and lead technician, Bryan Knisley, recorded a few tasty leads to one of our new bed tracks. Here, he is playing a Fender Custom Shop Jazzmaster modified with Kinman noiseless pickups. All these mics in this session are dynamics that sell for under $300.
Be sure to use the "Listen Blind" feature under "Options" to avoid any preconceived notions on which mic you'll like.
Load Audition
NOTE: The MD 421 II's bass roll-off switch is set to "S" or maximum bass roll-off
ITEMS: Alt Country, ATM650, Audio Technica, Beyerdynamic, distorted, dynamic, e609, electric guitar, Electro-Voice, Halo, Lewitt, M88 TG, MD 421 II, MTP 440, ND46, Sennheiser, shoot out, single coil, SM57, Sontronics
[fblike]