#80: SDC on Drum Overheads with Acrylic Snare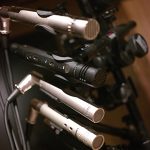 Jake Mohan adds live drums to his electronic composition and we use 7 small diaphragm condensers across a wide price range to capture ½ of the stereo overhead picture. The mics are set up in the "Recorder Man" configuration and there is a drawing in the session images in case you are not familiar with it. The front mic directly over the center of the snare is a Neumann TLM103.
NOTE: The mics in the array slope away from the kit in order to maintain equidistance from the snare and kick relative to the front mic.
Load Audition
ITEMS: CEMC-6, electronic, KM184, KMS137, M5, Neumann, NT5, overhead, rock, Rode, shoot out, Shure, SM81, small diaphragm, snare
[fblike]