#87: Ribbon vs LDC on Soprano Sax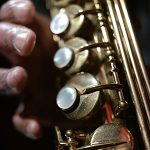 The "Minneapolis Sound" made famous by the Prince is reverently present in Walter Chancellor's Jr. track ?Gimme Gimme the Funk?. Walter performed and recorded with Prince, earning a platinum record for his participation on Prince's "Emancipation" CD. He has also performed and recorded with Chaka Khan, Bobby Lyle, Maceo Parker among many others. In this head to head audition by The Mic Site we set up 4 ribbon mics, active and passive and 4 small sized, large diaphragm condensers. This series of sessions will open your ears to the distinct differences between the two mic types. The price range for these mics is all over the map. This session is more about what sounds are achieved with which types and how that type lends itself to one genre of music or another.
Use the Listen Blind feature under Options to avoid any preconceived notions on which mic you'll like.
Load Audition
ITEMS: C414 XLS, CR-14, Dragonfly, funk, Head to Head, large diaphragm condenser, LCT 540, ML-53, N22, ribbon, soprano sax, TLM 103, Walter Chancellor Jr, Woodpecker
[fblike]