Audio Technica AT5040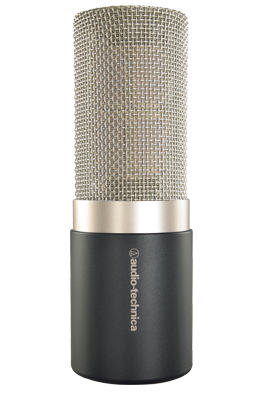 BH Photo Video – $2999.00
The Mic Site – BEST PRICE**
1 NEW
2 MINT
3 GOOD
4 USED
X
No listings in this category
Type:
Large Diaphragm Condenser
Freq:
20?Hz – 20?kHz
Polar Pattern:
Cardioid
Sensitivity:
56.2?mV/PA, re: 1 V/Pa
Impedance:
50 ohms
Noise Level:
5 dB
Max SPL:
142?dB SPL?1%
Power:
+48V DC Phantom Power
Connector:
Cardioid-Pin
No auditions for this item
The AT5040 Cardioid Condenser Microphone by Audio-Technica is designed as a vocal microphone and features a smooth top end with controlled sibilance. It also offers fast transient response, making it suitable for acoustic instruments, such as piano, guitar, strings, and saxophone. The microphone employs a four-part rectangular element to provide purity of sound. Each of the four parts function together and provide a surface area twice the size of a standard 1.0″ circular diaphragm. There is an advanced internal shockmounting system, effectively decoupling the capsule from the housing for vibration-free performance. The microphone includes a shockmount for additional isolation. The AT5040 is hand assembled and inspected for quality control and is enclosed in an aluminum and brass housing for durability.