Audix Fireball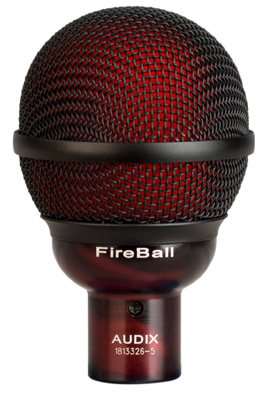 Front End Audio – $141.55
*Price reflects 5% discount. Use MICSITE coupon code at checkout.
The Mic Site – BEST DEAL**
1 NEW
2 MINT
3 GOOD
4 USED
X
No listings in this category
Type:
Dynamic
Freq:
50 Hz – 16 kHz
Polar Pattern:
Cardioid
Sensitivity:
1.5 mV/Pa @1k
Impedance:
280 ohms
Noise Level:
NA
Max SPL:
140 Db
Power:
None
Connector:
Cardioid-Pin
No auditions for this item
The Audix FireBall is a dynamic microphone with sleek styling and a unique design. Well-suited for both chromatic and diatonic harmonicas, the FirebBall mic features a dent-resistant round grill with a deep red internal pop filter. Contoured to fit comfortably within the palm of your hand. A full-sized dynamic capsule featuring VLM (Very Lo Mass) technology provides big, full-bodied sound that is both clean and accurate. The FireBall is resistant to feedback and is capable of handling sound pressure levels in excess of 140dB without distortion. Made to be cupped, this harmonica microphone will operate as if in an open-air environment even under the most demanding conditions. A smooth and uniform frequency response of 50Hz-16kHz and a cardioid polar pattern allow the FireBall to focus on the particular instrument being miked without picking up other instruments or ambient noise.