#30: LDC on Female Vox and Harmonica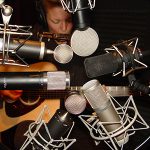 Angie Oase, singer /songwriter and front woman for Pennyroyal lends her stunning voice to several songs for our large diaphragm condenser mic tests. In this session she is singing and playing acoustic guitar and harmonica and we pulled the mic array back and get more room sound for this performance.
The mics are 12" (30.5cm) in front of her, all pads are set to 0db, roll-off switches are set flat, and all mics are set cardioid pattern. The mics were leveled to -6 on the digital scale after getting a reading of 99db from Angie's voice and replicating that level via pink noise. There is a pre-rendered reverb track to aid in assessing how the mics will fit into a mix.
Load Audition
ITEMS: Alt Rock, AT4050, Audio Technica, Baby Bottle, Blue Microphones, CAD, Female Vocals, harmonica, large diaphragm condenser, Luna, M-Audio, sE Electronics, SE2200A, shoot out, ST59, Sterling Audio, Trion 6000
[fblike]