MXL V67G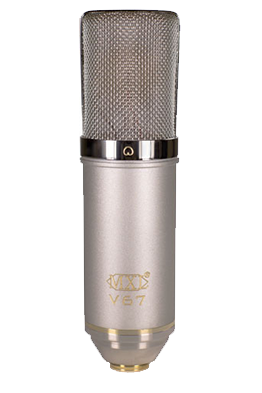 Front End Audio – $103.55
*Price reflects 5% discount. Use MICSITE coupon code at checkout.
The Mic Site – BEST DEAL**
1 NEW
2 MINT
3 GOOD
4 USED
X
No listings in this category
Type:
Large Diaphragm Condenser
Freq:
30hz – 20kHz
Polar Pattern:
Cardioid
Sensitivity:
15?mV/PA
Impedance:
200 ohms
Noise Level:
NA
Max SPL:
130 dB SPL 0.5%
Power:
+48V DC Phantom Power
Connector:
Cardioid-Pin
No auditions for this item
The green with gold grill MXL V67G Large Capsule Condenser Microphone is designed mainly for use with vocals and combines Class A FET circuitry and a transformer-coupled output for an open and pure sound. It features a gold-sputtered large diaphragm, providing audio quality well suited for capturing instruments and vocals in project and professional recording applications. Additionally, the microphone offers a 30 Hz to 20 kHz frequency response for accurately reproducing audio signal in a variety of ranges. The green and gold coloring give this microphone a professional vintage appearance.