Sennheiser MKH 40-P48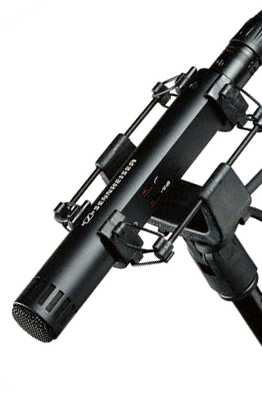 BH Photo Video – $1199.00
The Mic Site – BEST PRICE**
1 NEW
2 MINT
3 GOOD
4 USED
X
No listings in this category
Type:
Small Diaphragm Condenser
Freq:
40?Hz to 20?kHz
Polar Pattern:
Cardioid
Sensitivity:
NA
Impedance:
150?Ohms
Noise Level:
12 dB?A-Weighted
Max SPL:
134?dB SPL
Power:
+48V DC Phantom Power
Connector:
Cardioid-Pin
No auditions for this item
The MKH 40 P 48 Microphone from Sennheiser is a pressure gradient condenser microphone designed for remote recording, sound reinforcement, instrument capturing, group and choir capturing and speech. The MKH 40's capsule features symmetrical transducer technology that ensures extremely low distortion, and its wide-angle cardioid polar pattern provides balanced sound reproduction. Reverse attenuation ensures maximum rejection of off-axis sound, providing exceptional control of the captured ambiance. The MKH 40 P48 features a low frequency roll-off switch, to minimize rumble and noise. Switchable pre-attenuation provides an additional 10 dB of headroom, preventing distortion and overload caused by transient signals at close proximity.