Shure SUPER 55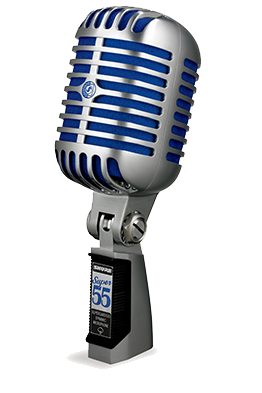 Front End Audio – $236.55
*Price reflects 5% discount. Use MICSITE coupon code at checkout.
The Mic Site – BEST DEAL**
1 NEW
2 MINT
3 GOOD
4 USED
X
No listings in this category
Type:
Dynamic
Freq:
60Hz to 17kHz
Polar Pattern:
Supercardioid
Sensitivity:
Impedance:
290 ohms
Noise Level:
Max SPL:
94dB SPL
Power:
None
Connector:
Supercardioid-Pin
No auditions for this item
The Shure Super 55 Deluxe Vocal Microphone delivers an unmistakable vintage look and equally impressive sound at an affordable price. This dynamic microphone features a tailored frequency response, well suited for speech and vocal capturing. The Super 55 Deluxe features an integrated, self-tensioning swivel mount, chrome-plated die-cast casing and vibrant blue foam. The Super 55 adds style, flair and sound quality on stage, podiums, houses-of-worship, and more.