Vanguard Audio Labs – V13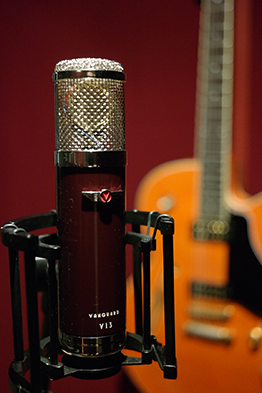 AUDITIONS: Vanguard Audio Labs V13
[postlist id=1797]
TAGS: [show_post_categories show="tag" hyperlink="yes"]
CATEGORIES [show_post_categories show="category" hyperlink="yes"]
[fblike]

When you visit Vanguard Audio Lab's website and look up the V13, one of the first things you'll read is this sentence, "The VANGUARD V13 is very different from other mics in its price range. It is designed and precision-built in limited quantities to "no-compromise" standards," and every aspect of that statement rings true! In keeping with The Mic Site's review guidelines, we are not going to go over the "sound" of the mic itself, for that we encourage you to hear for yourself through The Mic Site auditions links below. Instead, we will go over the included accessories and the fit, finish, and feel of this mic.
The V13 is a variable multi-patterned tube mic that stands out in the crowd, sporting a deep burgundy gloss coat and polished nickel trim. It comes with a fitted flight case, heavy duty shock mount, wood box, a matching deep burgundy power supply (with a sweet chicken head knob for selecting pickup patterns) and power cable. Everything about the mic feels well-built, especially the shock mount. It is seemingly a small detail but the redesigned shock mount gives the mic a *now*, *different animal* vibe, and the design allows a singer to get right up on the mic to work the proximity effect without the shock cords getting in the way. All the accessories are well-made and designed and the matching color power supply is simply wonderful eye candy. There is a definite impression, when opening the flight case for the first time, of getting a lot more than you paid for.
Technically the V13 operated without any issue, again, speaking to the build quality to which Vanguard aspires. The tubes heated right up and the mic started singing in no time. Speaking of power, we have to mention the V13's self-noise… there wasn't any. So little in fact, we re-checked the recording array to make sure it was all plugged in correctly. In communications with Vanguard, after we sent the mic back home, they said they had taken a great deal of time and effort to get the mic to be very quiet and whatever they did it worked out like nothing I have heard before. (Pun unintended but I will own it).
Click on the links below the mic's picture to listen for yourself to the sound of this beauty, and while we promised we wouldn't review the mic's sound, we will say are extremely impressed. And, at a price point of right around $750.00, the Vanguard Audio Labs V13 is worth a very careful listen before deciding on a center piece tube mic for your studio collection.